ROXY NOX: Kristina was already introduced to electronic music, especially techno and house, in her childhood by her uncle. So it's little wonder that when she started her DJ career in late 2020, she stuck to electronic music. Preferably she plays groovy Tech House or Funky House in summer times. She is also responsible for artist management and booking.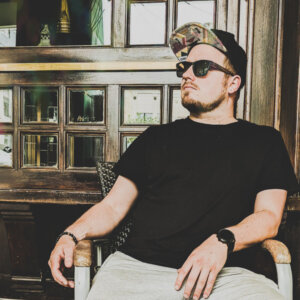 CEO, DJ, MEDIA PRODUCTION
PURPLE PALMS: Are you ready to party? Dominik is known as Palmlands' powerhouse. With his choice of driving Tech House tracks, he makes the dancefloor burn. He is also passionate for media production and therefore the mastermind behind all Palmlands visuals.
KRAUSE: Marcel is known for his ability to authentically play Deep- and Tech House sets. He joined Palmlands as DJ, producer and friend in late 2022.
PAUL NOVOX: supports us with his unique experience in sound design and mastering. You want to bring your track to top level? Paul is the right person for that.
PROMOTION, MARKETING & SUPPORT
Kim has been supporting Palmlands Records since 2022 with her extensive connections in the local House music scene. Her positive attitude makes her an asset to Palmlands.
Lion is not only one of our experts when it comes to promotion, his photography skills are an absolutely unique selling point.
Alyssa supports the collective with extensive social media and marketing knowledge. Whether it's the latest trends on Instagram or crucial marketing moves, Alyssa makes the right decision.

Palmlands Records
info@palmlands.de
(+49) 160 360 7692